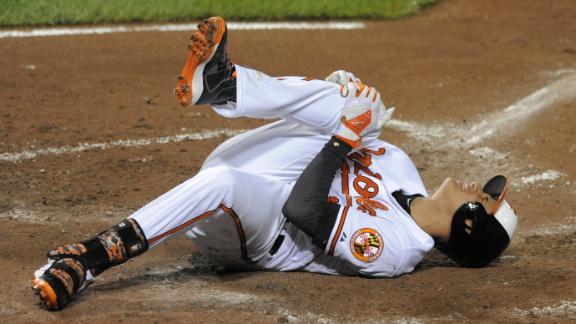 Manny Machado
, the 22 year-old third baseman of the Baltimore Orioles,
will have season-ending knee surgery
...again. Bill Murray may not be impressed, because this is only the second time that this form of history has repeated itself, but this is a blow to baseball in the form of one its youngest and brightest players not being able to avoid injury.
The surgery itself is not to repair anything that may have torn when he went down during an at bat on August 11th, but the news is a definite blow for the Orioles who had seen Machado slash .351/.385/.544 after returning from his suspension in early July. A suspension he earned when he
helicopter'd a bat
at Oakland A's third baseman,
Alberto Callaspo
.
This snippet from the article linked above gives you an idea of what the Doctor intends to do to Machado:
According to the sources, ElAttrache discovered a small abnormality in the knee during the previous surgery that could have contributed to last year's injury. The right knee has the same abnormality and that, too, is expected to be repaired, sources said. Future knee issues for Machado, 22, could be avoided because of this discovery and repair, and those close to him believe the surgery is best for Machado's long-term health and success.
An exploratory surgery on a 22 year-old kid to fix an abnormality, huh? Sounds like a great idea. Except Machado's defensive numbers plummeted this year from last year's otherworldly standing. Granted, defensive metrics are temperamental at best, but when a players defensive runs saved goes from +35 to +7, and his UZR drops from 31.2 to 5.8, people take notice. And not only do they take notice, but they look for a reason for such a large disparity.
Hmmmmmmm, I wonder what could have caused such a large drop? Could it be that he had knee surgery last year? I'm going with probably. Unlike TJS, most surgeries to not make a person "as good as new." And, at 22 years-old, Machado will now have had work done on both of his knees.
I'm not saying that Machado's career is over. But, it does raise the concern that at some point, 10 years from now, are we going to wonder how much better Machado may have been had injuries not played a role early in his career. As the owner of a couple of balky knees, I am legitimately worried that the words "what if" will be a part of most comments people use when they talk about Manny Machado.