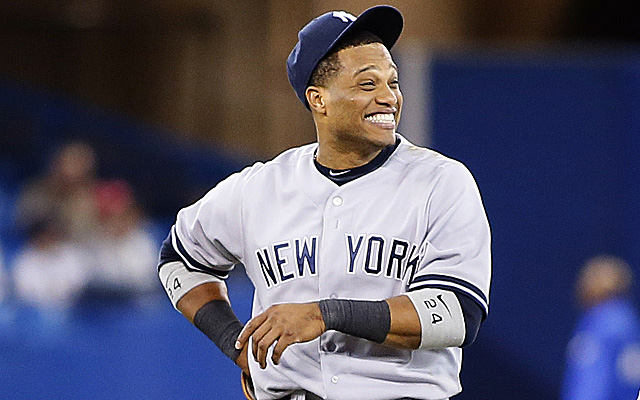 It looks like the Yankees are still not willing to give-in to
Robinson Cano
's and Jay-Z's demands that Cano get a 10-year $310MM contract. And I can't say that I blame them.
CBS Sports' last man standing, Jon Heyman, has the apparent goods on how far apart the
Yankees and Cano really are
this offseason. And if you believe what Heyman has to say, $150MM-ish is quite the gap to build a bridge over. That's 54.5% of
Alex Rodriguez
's current contract. it is 62.5% of what the Angels are paying
Albert Pujols
. It is $25MM more than what
Josh Hamilton
got last offseason. It's more than what the Astros, Marlins and Rays combined payrolls. It's a lot of lettuce.
Cano does have a couple of things going for him this winter that could lead to the windfall that he seeks. He has averaged 6.4 fWAR over his last four seasons. Other than
Brandon Phillips
being made available by the Reds, there is no top-shelf second basemen to be had in this winter's market. In fact, there aren't many top-shelf players at
any
position this winter. It is Cano and then everybody else.
But when you look at Cano in the context of the fact that he plays in a ballpark with smaller dimensions than the little league fields that I played on, one of his big selling points (power), isn't as impressive.
Yankee Stadium plays way,
way
up to lefties. Especially those lefties who are dead pull hitters. You know, players like Robinson Cano. His .531 SLG% over the last five years is probably quite a bit lower had he payed most of his games in Atlanta or Seattle or Oakland.
He also just finished his age-30 season. He will have a few more of these really good seasons over the course of his next contract, but there is going to be a whole lot more of "Damn, why are we paying this go so much money" than there will be great seasons.
Make no mistake, Cano is going to get paid. He is going to be comfortable for the rest of his life sleeping on beds made of marshmallows and driving cars made out of gold coins. It is smooth financial sailing from here on out. But he's not getting $300MM. The Yankees are making it a point to get under the luxury tax threshold. Even the Dodgers and their currency printer are trying to
shed a little bit of payroll
this winter. And that is the entire list of teams that could reasonably get away with that big of a contract.
I'm not here to knock the hustle, Robbie. But your next contract is going to be one of your's and Jay-Z's 99 problems if you don't come down from your reported asking price.