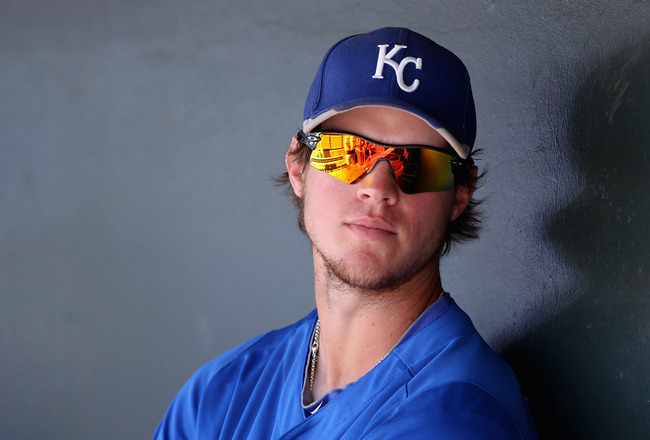 The Kansas City Royals have been an exercise in futility for the past two decades. In fact, the only thing separating them from being in the exact same category as the Pittsburgh Pirates is their 83 win season in 2003. And that season was in the middle of a stretch from 2002-2006 where the lost 100 or more games in four of those five seasons. The last four seasons however have seen the
Monarchs
Royals increase their win total from 65 in 2009 to 72 this past season. Progress people, progress.
Apparently, this means the time to strike is now. After they pulled off a "blockbuster" trade with the Los Angeles Angels picking up
Ervin Santana
as well as signing
Jeremy Guthrie
to a three year $25MM deal (That's one way to skew the market), rumors abound that the Royals are willing to part with uber-prospect
Wil Myers
in search of a frontline starting pitcher at the big league level. Baaaaaad call Mr. Moore, bad call. I guess Dayton thinks that 21 year olds who turn AAA into their own personal batting practice grow on trees.
Should the Royals be concerned about pitching? Yes, they absolutely should be. Especially when you have guys like
Bruce Chen
and
Luke Hochevar
at the front end of your pitching staff. The acquisition of Santana helps, and even though they gave Guthrie too much money, he did well in his stint in KC last season. They could give
Felipe Paulino
a longer look, but chances are that if the Astros aren't going to give someone a chance, there's a pretty good reason why he is only a fill in. But, with the payroll commitments currently sitting at $69MM, and assuming the Royals want to stay at or under last year's payroll of $73MM, a trade for pitching help seems like the only way they acquire what the covet. I asked Michael Engel who is the Editor of
Kings of Kauffman
what he thought about trading young Mr. Myers, this is what he had to say:
This Guy:
Would you trade Wil Myers? And if so, what for?
Michael Engel:
I really don't want to, but if it was for a
Matt Moore
/
David Price
type of beast, then I could deal with it. And who goes with Myers.
TG:
Are you asking me who would go with Myers? I don't know. Not as well versed in the Royals as you are.
ME:
No, just acknowledging that Myers alone wouldn't get that done.
TG:
But if it's not for a stud pitcher, than no.
ME:
Yes. I'd rather take a chance on
Shaun Marcum
or
Dan Haren
for one year and an option and keep all of our bats. Doubt I get my way though.
TG:
Do we ever?
I agree. Especially when said prospect at the age of 21 just put up a .304/.378/.554 line in 99 games in AAA with a total line of .314/.387/.600 for the season between AA and AAA. In fact, I think Myers alone
would
be enough to net a starter of that caliber. I also still think
Brandon Wood
is going to be a huge star. A catcher by trade, he's been roaming all three outfield spots and trying his hand at third the last two seasons. Unfortunately, the Royals have this
Jeff Fracoeur
guy blocking him for at least one more season. As if getting out from under Francoeur wasn't already necessary.
The real problem for the Royals is that it'd be near impossible for them to sell the fans on any trade that sent one of their bats packing.
Alex Gordon
finally found himself,
Billy Butler
is a fan favorite.
Eric Hosmer
fell prey to the sophomore slump, but he's a lefty bat with pop.
Mike Moustakas
is now the everyday third baseman and put up a respectable .242/.296/.412 line in his rookie season.
Salvador Perez
is going nowhere, and to a slightly less extent, the same can be said for
Alcides Escobar
. Another thing to consider is that the Royals play in the incredibly weak and winnable AL Central. The big bad Tigers last year won 88 games And despite having the "MVP" and
Prince Fielder
in the lineup, there was a lot more meow than rawr coming from the Motor City in 2012.
If Moore plays this smart, he will hold onto Myers and by May will have him inserted into the lineup with Francoeur riding the pine or riding a greyhound bus back to Atlanta. This team has a lineup, on paper, that matches up with (at the very least) most of the AL Central and is only a couple of steps behind the Tigers. The rotation needs one starter, probably someone coming off a bad year (Haren/Marcum/Dice-K). Of course, it is the Royals, and who knows with them. At the very least, they still have Steve Physioc,
Rex Hudler
and killer Bar-B-Que.