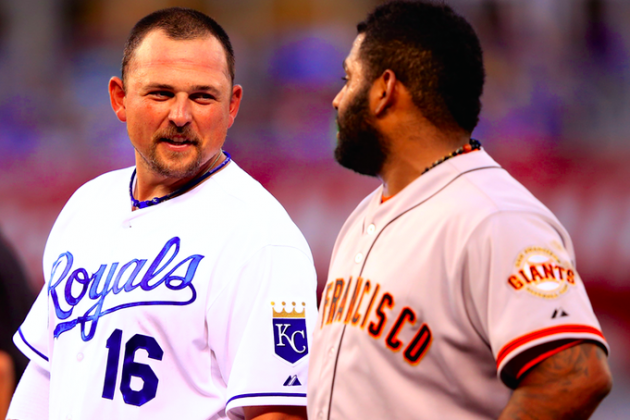 Sup? Sup. /head nod Suuuuuuup.
Here we are. It's the middle of October, and baseball has now finally widdled itself down to its final two teams. As all the experts predicted, the Royals and the Giants will square off on Tuesday to kick off the 111th World Series. What? No one predicted this World Series matchup? OK, maybe they didn't. But, now that we are here, who is really upset about this matchup? That's right. Nobody.
In advance of the Fall Classic, the Czar of Off Base Percentage, MJ Lloyd, and myself are going to kick around the old question ball and see if we can come to a consensus on who will be standing victorious at the end of the World Series. We put on pants for this shindig, so you would know that we mean business. Well, MJ is wearing pants. I'm wearing Spongebob Squarepants pajama pants. But for this exercise, they count as pants.
Let's cut to the chase, MJ. Ned Yost. Micro-managing genius, or insanely lucky? Side thought: How much does the ghost of Dale Earnhardt have to do with the Royals insane winning streak in these playoffs?
It's funny that Ned Yost was your first question because that was going to be my first question. But more of an over/under on when he calls for the first bunt of the World Series and I imagine it comes during media day. "Eric, you've been hot but as soon as somebody asks you a question with a runner on, you square up that mic and put it down the right exit hallway."
I don't think he's been lucky or good. He realized he needs his starter for five or six innings and if they have a lead, they win. I'll give him credit for using some of those guys for multiple innings but, oh god, Dayton Moore did a fine job giving him a bullpen that can win a championship.
And maybe the ghost of Earnhardt has played a role with the Royals. It's a nice story. Maybe Ned is hearing whispers of "go faster" when he sends everybody running on the bases. That would explain why Dyson gunned it so hard (20.1 mph) he slid past second into left field.
While I'm sure I know the answer long suffering Royals fans would give, I'll ask you. Is the Royals winning the World Series worth another 10 years of Ned Yost and Dayton Moore? Flags fly forever and sac bunts only drive you crazy for 162 games a year.
Worth it? To the outsider, probably not. But for fans, a World Series hangover can last for a long time. Of course, Ned Yost's wacky and zany land of small ball antics will only be endearing for as long as it is working. And I believe that the expiration date for this product is coming up pretty soon. But, to be fair to Yost, Joe Torre was considered a terrible manager before he got hired to manage the dynasty that was the late 90's Yankees. So, for Yost, who knows. Maybe he has finally found his place in KC. But, at this stage, I'm banking on the smoke and mirrors wearing off sometime around March of 2015.
Whatever crossroads both Yost and Moore went to in order to hook up with Robert Johnson and his genie of dark magic, they need to share it's location. I'm not saying that it is a good idea to sell your soul to the Devil, I'm just saying that maybe its not as bad of an idea as I originally thought.
Jarrod Dyson's hair? Fun and quirky oddity of this year's playoffs, or an undeniable cry for help?
Fun and quirky for sure. You've never had some strange choices in hair? When I was in my early 20's, my spikey hair color changed every two weeks and I had designs in my facial hair that would impress Jeff Hardy.
Dyson has one big job for this Royals team. Run fast. So, he chose to shave "Zoom" into the side of his head. If they win the World Series, Dyson's agent better get Mazda on the phone.
Speaking of agents getting on the phone, if the Giants win, what else would Buster Posey have to do to be the face of MLB? Seems like he should be a bigger star.
I had a rat tail at one point, and in recent years I've been rocking the mullet with a receding hair line. So, yes, I have enjoyed strange hair style choices. Maybe I should take it easy on Dyson.
Posey on the other hand, could probably use a bottle of my newly created and recently patented (but still not FDA approved) elixir,
Be Less Boring
. Posey is a wonderful player, and an excellent catcher. But, my goodness, is he boring. Without being a flashy star like some of the other big names in the game, he needs to do something. Maybe start compiling a rap sheet, or buy drinks for the entire bar after a series win a la Eric Hosmer.
Say you are walking down a dark alley in some seedy neighborhood in a scary city in America, who would you rather not run into in this situation: Hunter Pence, Michael Morse or Eric Hosmer? Why Hosmer, you ask. Have you heard him yell things?
Can I choose Pablo Sandoval if he wasn't smiling? If I ran into him in a dark alley of a shady neighborhood, I'd assume he was a bodyguard for the local mob leader. Plus he knows Kung-Fu, or so I've heard.
And if I was trying to get into a club, I wouldn't want to run into Madison Bumgarner. He doesn't give free passes this time of year.
Are you impressed by my boy MadBum yet?
Yes, I am. And not just because his snot rockets are monitored, charted and tracked (I hear his velocity on boogers is up from last year. Worth keeping an eye on). He's just good at everything on the mound. He also has great hair and wonderful facial hair. But I'm still not upset that I left him off of the ballot for the Walter Johnson Award.
Everyone made a big deal about the Royals being last in the known world in hitting dingers in 2014. However, the Giants hit exactly zero dingers until game five of the NLCS in this year's playoffs. With all of the media fawning over what is happening with regards to the Royals, is it possible that the media is missing out on a team that is out-Royalsing the Royals?
Could be. Eric Hosmer and Mike Moustakas were highly regarded prospects. So, maybe their monster shots in extra innings were just more exciting than Michael Morse and Travis Ishikawa? The Giants at least hit 132 homers during the regular season. The Royals finished dead last and didn't break 100. That makes the recent power surge a talking point for anybody trying to make a deadline. Speaking of which...
Let's start making some predictions. There's always an unlikely hero in the World Series. I know David Eckstein actually won a WS MVP but I want to call this the Eckstein anyway. That makes my pick David Eckstein. Wait, I mean Alcides Escobar. Who you got?
I'm putting my collection of George Washington's on Alex Gordon. It'll be the perfect ending to this KC masterpiece when the team's longest tenured, and former hotshot prospect, carries this band of crazy midwesterners to their first title in 29 years.
I assume that since you are picking Escober to take home the Eckstein that you are also picking the Royals to win the series. Is that correct?
You would think, right? I love that Royals bullpen and them in six sounds awfully tempting. But if I've learned anything since 2010, it's that Lindsay Lohan is never going to get her shit together. Also, the Giants win the World Series in even numbered years. I'll take the Giants in seven with Madison Bumgarner winning three games and the actual WS MVP.
Your final prediction?
Royals in six. Cut, print, on to the next scene. Their bullpen has made each game a five-inning affair, or it has been able to keep the opposition down for five innings of free baseball. They also have history on their side. The only other time that two Wild Card teams met in the World Series, the American League team won. This matters because, who really cares about sample size? Either way, it is going to be a really fun series that I am sure will cause 30-year old men in Kansas City and San Francisco to lose at least a solid inch of hair from their hairline.
Best of luck to the Gigantes and the Monarchs. To the fans: Stock up on antacids. All the antacids.