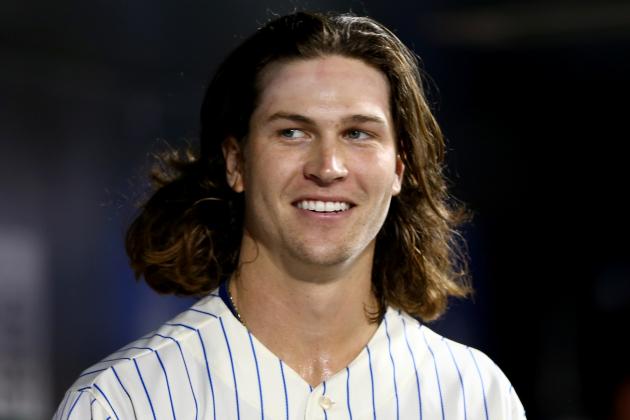 Once again, it's Baseball Bloggers Alliance award season! It's a lot like the BBWAA award season, just with different names because they litigious with their free time. The fine staff here at Off Base will guide you through our ballots over the next few days. Next, up the Willie Mays Award for this year's top rookie. Or, as I like to call it, the future faces of baseball who will never get injured or have bad seasons award.
It was quite the year for rookie ballplayers in Major League Baseball. At least, in the AL it was. In the NL...not so much. There were fast starts that led to complete faceplants, and there were late starts that led to strong finishes. But MTD (who will be supplying the AL ballot) has a much harder decision that yours truly.
1. Jacob DeGrom
Done, done and done. DeGrom made 22 starts and threw 140.1 innings, posted a 2.69 ERA and a 2.67 FIP. He had a K/9 of 9.24 and a BB/9 of 2.76. All of which helped him compile a 3.0 fWAR which was second among NL rookies, even though he started the year in the minors. His hair became it's own celebrity, and next year, the Mets get to line him up with Matt Harvey. He'll also never have to have TJS because I say so, and because the baseball gods need to leave good young pitchers the hell alone.
2. Ender Inciarte
The Diamondbacks had to at least have one bright spot this season, right? Inciarte posted a .278/.318/.359 slash line in 118 games this season. He has no power, but that glove (that posted a spectacular 23 DRS) helped tip the scales and push his fWAR to 2.9. Now all that remains is to know whether this was Kirk Gibson's and Ken Towers' idea. Someone has to get the credit for calling him up and keeping in the bigs. And the kids name is Ender. I mean, c'mon. If Jacob DeGrom isn't in the bigs then this kid gets the award on that principle alone.
3. Ken Giles
My Phillies dislike is well documented, but that doesn't mean I'm going to hold against Giles. His 12.61 K/9 isn't Aroldis Chapman territory, but it's every day human being outstanding. His 1.18 ERA and 1.34 FIP should make him the closer of the future in Philly, at least, it will so long as Ruben Amaro stops doing Ruben Amaro things.
4. Kolten Wong
The teeny tiny Cardinal showed some surprising pop this year in St. Louis with an ISO of .139. He's not going to light up the HR leaderboards, but it is something to keep an eye on. But if he is going to bring the big stick to the yard more often, he's definitely going to have to work on his bat flip game.
5. Billy Hamilton
Hamilton was the overwhelming favorite to runaway with the NL Rookie of the Year award this seasons, but his disastrous second half did him absolutely no favors. He finished the season with a .250/.292/.355 slash line and a NL rookie leading 3.5 fWAR, not to mention his 56 stolen bases. Defensively he was worth 22 runs above average, better than Ender Inciartes. But a second half slash line of .200/.254/.257 isn't doing Billy or the Reds any favors. it was still a fantastic rookie season, just not good enough for me to push him up this list.
[Ed. Mike got a little enthusiastic with his ballot as only the top three will be counted in BBA voting. And I'll supply the following least valuable NL Rookie-MTD]
LVR. All of the Cubs
The future is bright for the Cubs and fans caught a glimpse of it in 2014. Or, at least, they caught the soothing summer breeze from so many strikeouts. Arismendy Alcantara, Mike Olt and Javier Baez all struck out in over a third of their plate appearances with Baez leading the way with a 41.5 strikeout percentage.
How much does Baez strike out? *taps index cards on desk* Baez has more fans than a Geisha dance routine and One Direction combined. Baez provides more BTUs than any Frigidaire window unit on the market. Baez supplies more wind than the
Vestas V164 8MW
. That last one was for the engineers reading this. I don't actually get that joke.
If the strikeouts weren't bad enough, Alcantara set the trio's high water mark with a .254 OBP. But don't worry Cubs fans, rookies struggle and some win awards. Ask Chris Coghlan.